Virta has launched Virta emission reduction trading service called CO2 Cashback in Germany. The same concept will likely also be introduced in other EU member states and Virta might launch it accordingly in relevant markets in the future.

With CO2 Cashback service CPOs (and/or EV owners) can monetise the CO2 savings they achieve by having bought a charging station (or a full electric vehicle).
If a customer is qualified for the service, they can mark it with checkbox in admin panel (both ones). Virta Energy Product team gets the info there and takes care the rest parts of the process
In Virta Platform (platform.virta.global), user goes to Organisation tab and finds the checkbox in Basic information.



In Virta Admin Panel (admin.virta.fi):, user goes to Settings tab, chooses Organisation information and selects their organisation, and finds the checkbox after Roaming settings category.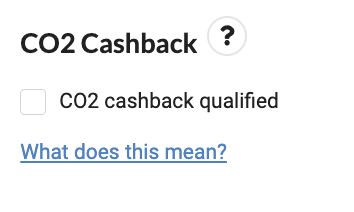 In both admin panels, checkbox is set at organisation level.

Background


Virta takes care of the whole process after a customer has activated CO2 Cashback in their settings. Virta pays out their reward at the end. EV owners get a certain payout per BEV and CPOs get a certain payout per kWh charged on their public stations.
The underlying mechanism is based on legislation in Germany where oil majors are forced to reduce their emissions by a certain percentage every year until 2030 (for now). One of the ways they can reduce emissions on paper is to buy achieved emission reductions by another party (e.g. CPO, EV owner). Therefore, money from oil companies is shifted to parties who have invested in more sustainable solutions. It essentially shall increase the price of oil, making ICE vehicles less attractive and reward more sustainable choices and potentially accelerate more investments in sustainable solutions as the ROI is increased.