To view EV drivers, you first need to have access to the Drivers module (visible in the bottom navigation). Access might depend on your role or the modules your organisation has.
Basic information
When opening a driver account, you will first see the Basic information view.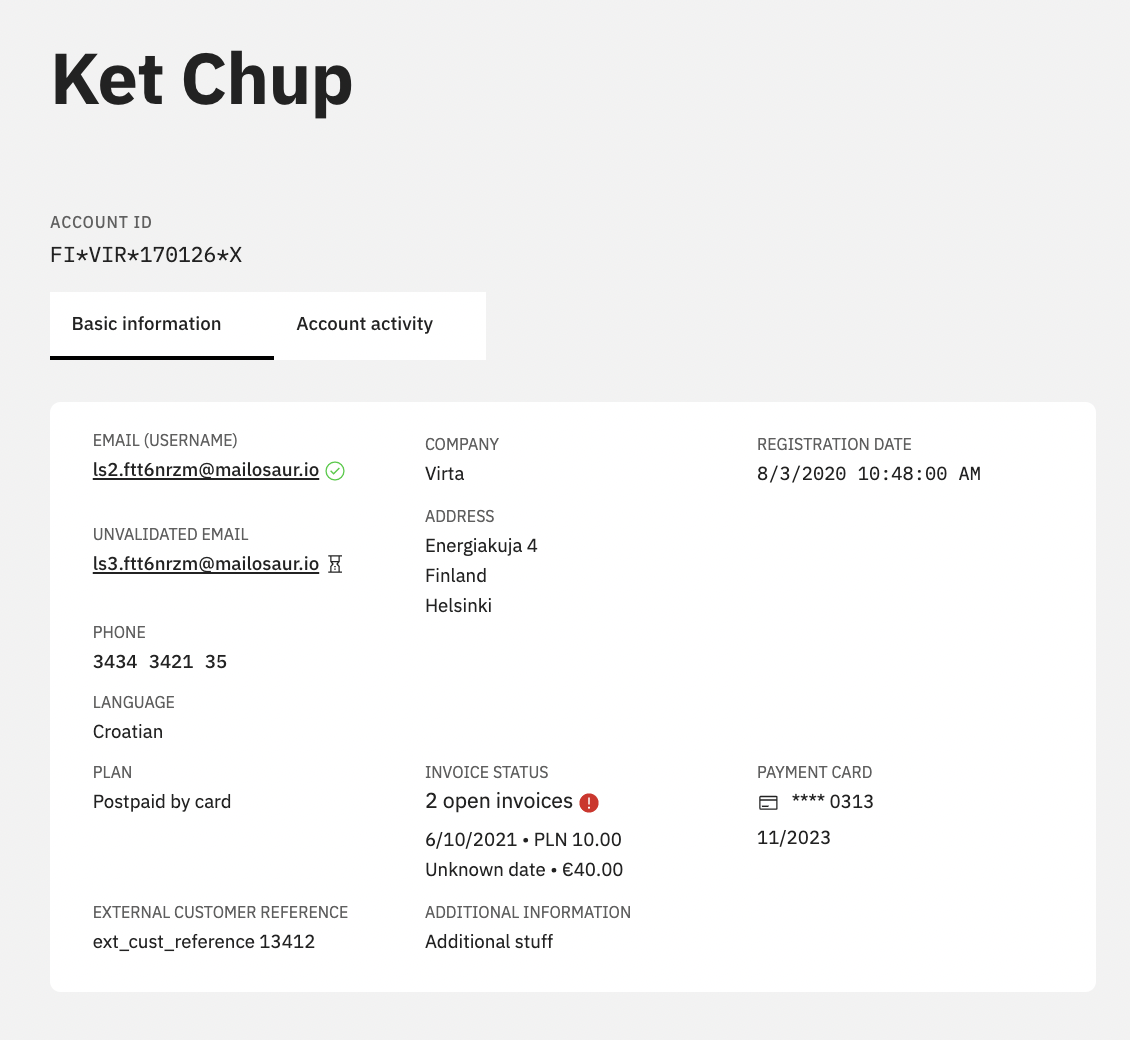 The basic information includes the following information (if it exists):
Email: the account's email address is used for

Login
Email communication (including payment receipts and legal updates)
Note: if the driver is in the process of changing their email address, we will also show the new, unvalidated email address. Only validated addresses can be used for the above.

Phone: the account's phone number is not used in our system. It is here for your own customer support needs.
Note: currently, we cannot show the country phone prefixes.
Language: the account's language determines in which language our system will send all email communication
Plan: the account's billing plan defines how the driver is being billed

Prepaid: the account must have a minimum amount of prepaid balance to be able to charge. In most cases, the payment card is automatically billed whenever the balance goes under a pre-defined minimum
Postpaid: the account's balance is always manually billed and reset
Postpaid-by-card: the account's payment card is billed after each month's end for the total consumption of the month
Note: your drivers' billing type depends on your Virta contract. Please contact your CSM for details.

External customer reference: this reference can be used to link driver accounts between your own 3rd party systems and the Virta platform. It can be exported as part of the "All driver accounts" report.
Company: this reference can be used to identify your B2B customers' driver accounts. 
Address: the account's address is used whenever a driver purchases a new charging pass. It is otherwise not requested during registration.
Balance (only if the Plan is Prepaid): current balance available on the customer's account. If the balance is negative, the driver will not be authorised to start a charging session anymore.
Invoice status (only if the Plan is Postpaid-by-card): the current month's consumption. We will also show whether the account has open (unpaid) invoices. In this case, the driver will not be authorised to start a charging session anymore.
Additional information: this field can be used to add any custom information you need about this account. It will not be displayed to the EV driver.
Registration date
Payment card
Account activity
The account activity tab gathers all the events that have been happening on the account. It is sorted chronologically, all the way back to the driver's registration time.